An Overview Of Pediatric Dental X-Rays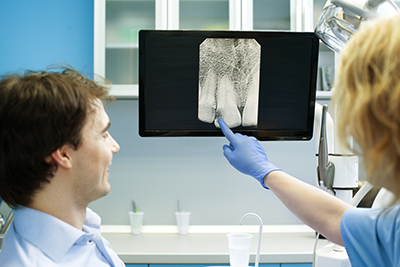 When your child has to have an X-ray, you may worry that an X-ray means there is something wrong. However, dental X-rays don't mean there is anything wrong with your child. Dentists use X-rays to prevent problems with children's teeth before they arise.


What Are X-Rays?

X-rays are a way to see the inside of your child's mouth, including the teeth you can see, as well as any teeth that have not erupted yet. Doctors and dentists have used X-rays for years to see bones in your body. Those X-rays can tell a medical professional if there is something wrong with a bone, such as a fracture or an abnormal growth.


When Will My Child Get Dental X-rays?

When your baby is still an infant without teeth, they won't need an x-ray. Once your baby's teeth begin to erupt, they will need to have an x-ray as soon as they have two teeth that touch. If a dentist suspects there might be a problem with your baby's teeth, they might request an x-ray earlier.


What Kind of X-ray Would My Baby Get?

Due to each dentist being different, there are different kinds of X-rays that dentists use. One of the most common types of X-rays is called bitewing X-rays. With a bitewing X-ray, a child bites down on a piece of cardboard while a dental hygienist takes an X-ray. However, with very young children, bitewings aren't as effective as they are on older children. A pediatric dentist may instead take panoramic digital X-rays of your child's mouth, which is usually an easier process. With digital X-rays, a dentist can see a panoramic view of the mouth without using bitewing X-rays.

Usually, dentists want children to have X-rays at the same rate as adults- which means your child will have X-rays once a year or twice a year. If the dentist is concerned about your child's teeth, they may request x-rays at each dental visit. If your child is at low risk for problems, they may only need x-rays once a year.