Dental Veneers

Montgomery, NY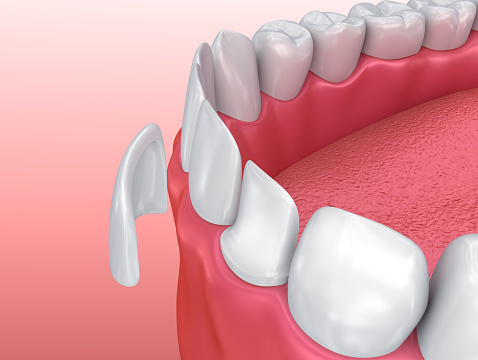 A dental veneer is a custom-made thin shell that completely replaces the enamel on the front of a tooth. Veneers are made from composite resin or porcelain. Veneers are used mostly in cosmetic dentistry for aesthetic purposes, to improve your smile's appearance, and not to repair any damage or decay. At Masci & Hale Advanced Aesthetic and Restorative Dentistry we offer a wide array of cosmetic dental procedures, and we would be happy to offer you a consultation with one of our dentists to find a treatment that is right for you.


Benefits Of Dental Veneers

Dental veneers are mainly used to improve the appearance of tooth enamel. For veneers to have long-lasting effects, it is important to develop a good oral hygiene routine and adjust any lifestyle habits that may have degraded your natural teeth before undergoing this procedure. Veneers can help make minor adjustments to teeth alignment. Heavily stained teeth or chipped teeth can be renewed with veneers.


Porcelain Veneers

Porcelain is very similar in appearance to teeth enamel, its translucent and identical in color. Porcelain veneers are made in a dental lab and require at least two appointments for installation. Porcelain veneers can be expected to last 10-20 years. Porcelain is highly biocompatible and hypoallergenic. The material is stain-resistant and easy to clean. Zirconia porcelain veneers can provide extra strength to slightly damaged teeth.


Applying Porcelain Veneers

In your first appointment, a dentist files down the enamel to make room for the veneers. The dentist makes an impression on the reshaped teeth. This impression is sent to a dental lab to fabricate the veneers. Your veneers may not be ready for two to three weeks, so your dentist will provide temporary veneers while you wait. Once your veneers are complete, you will return to have the veneers installed. The dentist will thoroughly clean your teeth. Then acid is applied to the veneer's inner surface and to your teeth to ensure a firm bonding. A strong dental adhesive is used to secure the veneers into place. Making and applying veneers is an art form, it can take one to two hours to apply, depending on the number of teeth being treated.


Composite Veneers

Composite veneers are an inexpensive and simpler alternative to porcelain veneers. Composite resin can begin to show signs of discoloring after five years and is resistant to bleaching treatments. They only require one appointment to be applied. A dentist roughs the enamel of your teeth with an acid and then applies a bonding agent to the teeth. The composite resin is applied in thin layers and cured with a UV lamp. The dentist builds up the layers of resin until the tooth reaches the desired shape. Once shaped, the tooth is buffed and polished, completing the veneer. Composite veneers are often used as temporary veneers until the patient can save enough money to invest in porcelain veneers.

A consultation with Masci & Hale Advanced Aesthetic and Restorative Dentistry can help you weigh out your options and make a plan for treatment that is best for you. If you have any questions or concerns, or would like to schedule a consultation, call us at 845-769-0160 today.