Five Guidelines for Brushing Children's Teeth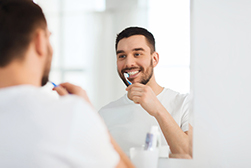 Brushing teeth may be frightening for a toddler since it is a novel sensation. The most effective way to instill an appreciation for cleaning their teeth in your kid is to eliminate the negative stigma. Rather than making it a chore, the goal is to make it a pleasurable experience. When teaching youngsters to brush their teeth, you can use a few techniques and methods to make it more fun.


Teach Them To Brush At An Early Age

As a parent, you must start teaching your kids how to clean their teeth as soon as possible. Brushing their teeth regularly might be easier for your kids if you start them young. The goal is to establish a convenient schedule for you and your children.


Brush Together With Them To Make It Fun

Brushing might be a tedious task but strive to make it enjoyable. As we all know, our youngsters tend to mimic our slightest move and word. As a result, follow their lead and bump up against them.


Let Them Choose The Toothbrush And Toothpaste They Want To Use

Fortunately, there are several brands of kid's toothbrushes and toothpaste. Whatever brand you choose, there will likely be children's versions of that brand's items. Take your kids to the shop with you and let them select their toothbrushes and toothpaste. This will allow them to feel more in charge of their hygiene.


Compliment Them On Their Brushing Abilities

Having a supporter at their side, mainly if that supporter is their parent, maybe the most motivating factor for kids. If you praise your children for their brushing abilities and motivate them to do so consistently, they'll be more likely to brush twice a day.


Select The Right Dentist

Choosing the correct dentist is another crucial step in teaching your child primary oral care. Asking your kids' dentist for a thumbs up for brushing alone is a great approach to motivate them. It's a different ballgame when an authorized person in a white jacket encourages you.


Please Contact Us if You Have Any Questions

We offer after-hours dental treatments for your convenience. Contact us right away, set up an appointment, or pay us a visit at one of our offices. Patients of all ages may expect to receive high-quality dental care at a reasonable price from our dentists.