Multiple Tooth Replacement

Montgomery, NY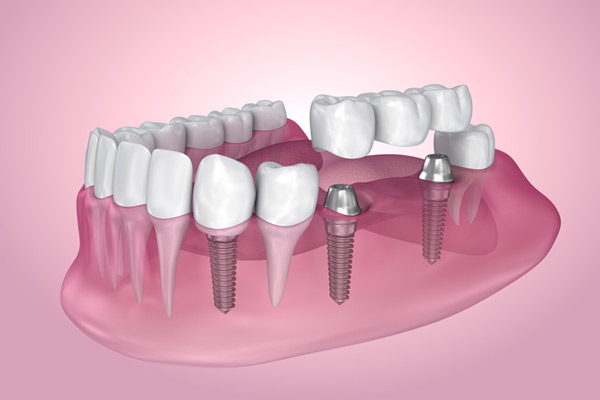 If you have lost multiple teeth, you have a few different options to replace them. You can get a bridge or a partial denture, of course. Today, though, many people prefer to get dental implants. Multiple tooth implants are a common procedure we do here at Masci & Hale Advanced Aesthetic and Restorative Dentistry, so if you are missing several teeth in a row, we can help.


Why Dental Implants?

Implants do require more surgical procedures than getting dentures or even bridges, but they also have several benefits over these options. They are permanent, so there is no fear of the implants falling out or shifting in your mouth like dentures may do. Unlike bridges, dental implants are attached to your jawbone instead of to other teeth. This makes them much more durable and stronger. Bridges can be damaged and can even come loose, but implants do not have that problem. You also do not need to do anything special to take care of dental implants. Simply brush and floss like you normally would.

Dental implants also help preserve your jawbone. When you lose teeth, the bone that once held those teeth in place will start to deteriorate. Bridges and dentures simply sit on top of the bone and gums, so they do not stop this deterioration. Dental implants, however, do. The titanium posts used to support implants actually fuse into the jawbone, becoming a part of it. This helps to strengthen the jaw and prevent any deterioration.


How Are Multiple Implants Placed?

When you come in to receive dental implants, we first may need to extract some damaged teeth or remove impacted teeth that are below the gums. Next, we will place the posts. If the teeth are together, we may be able to replace those teeth with a dental bridge that is supported by implants. For example, we may be able to place two posts and support four crowns on them. If you need all of your lower or upper teeth replaced, we may even be able to do an All-on-4® Treatment Concept and only place four posts.

Once the posts have been placed, it can take anywhere from two to six months for them to fully fuse with the jaw. During this time, we will place temporary crowns over the implants. We will closely monitor the healing process, and once the bone has fully fused, we will place your permanent crowns. These crowns will be carefully shaped to perfectly fit and can be tinted so that they match your natural teeth. Once in place, few people will realize you even have dental implants.


Who Should Get Multiple Tooth Implants?

Anyone who is missing several teeth needs to talk to us about replacing them, whether it is with dental implants or something else. The longer you go without those teeth, the more likely it is that the rest of your teeth will slide out of position and that your jawbone will start deteriorating. Many of our patients are good candidates for dental implants. If you would like to find out if you are, give Masci & Hale Advanced Aesthetic and Restorative Dentistry a call today at 845-769-0160.